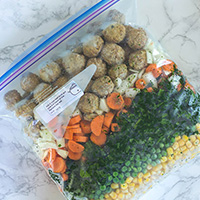 Meatball Soup with Veggies
Serve with fresh Italian bread. Substitute gluten-free meatballs and gluten-free beef broth to make gluten-free and Whole Food.
To Freeze and Cook Later
Label your freezer bag with the name of the recipe, cooking instructions, and "use-by" date.
Add all ingredients except broth to your freezer bag. Remove as much air as possible, seal, and freeze.
To Cook
Thaw freezer bag overnight in refrigerator or in water in the morning.
Pour contents of freezer bag into your crockpot and add broth.
Cook on "low" setting for 4 hours in a 6-quart crockpot or 8 hours in a 4-quart crockpot.
Remove bay leaf and stir.